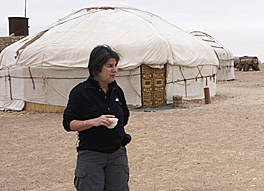 A photographer, educator, and freelance technical consultant, Arlene specializes in documenting remote cultures and changing civilizations around the world. She currently produces and leads international photography workshops, offers a master photography class and topic-specific short courses in her New York City studio, lectures in the United States and abroad, and consults privately with a number of clients.

Arlene studied with several renowned photographers, including Lisette Model. She earned her MA in Media Studies from The New School and an MFA from Hunter College in New York City. She is an Associate Professor of Photography at Parsons School of Design and during the summers teaches at the Maine Media Workshops, and for 15 years she taught in the Documentary Photography and Photojournalism Program at the International Center of Photography in New York City.

Arlene is a world traveler, and the list of countries she has not yet visited or worked in continues to shrink. She has photographed in more than 60 international locations. She has lectured in Yangon, Myanmar (Burma), Havana, Cuba and Istanbul, Turkey, and she has taught workshops at the Centro de la Imagen in Mexico City; ROSPHOTO, the Russian State Center of Photography in St. Petersburg, Russia; the Fototeca Center in Havana, Cuba; at the Three Shadows Photography Center in Beijing, China; and in Lahore, Pakistan. In addition, Arlene has led intensive workshops to Armenia, Argentina, Burma, Bhutan, Nunavik Canada, China, Cuba, Cambodia, Ethiopia, Greenland, Kamchatka, eastern Russia, the Republic of Georgia, India, Iran, Laos, Morocco, Mali, Mongolia, Namibia, Papua New Guinea, Tibet, Turkmenistan, Turkey, Vietnam, and Uzbekistan.

Closer to home, she has been a panelist on the Night Photography Seminar at New York City's Photo Plus and has reviewed portfolios for Photo Plus, The New York Photo Festival, and the Society for Photographic Education, and was a guest lecturer at the New York Photo Salon.

Arlene has created several long-term photography essays, including Boxing photographed in New York City, Moscow, and Bangkok, and essays on the Rodeo in New Jersey, Voodoo in Western Africa, and the Chernobyl #4 nuclear reactor and the abandoned city of Pripyat, Ukraine. As she continues her international travels, Arlene also adds to her ongoing photographic essay on "UNESCO–designated" World Heritage Sites. Her photographs from North Korea were featured on L'Oeil De La Photographie. In addition to her still photography, Arlene now produces video. She has created Mali: Witnessing Traditions; Ten Days in May: St. Petersburg and Moscow; The Birqash Camel Market in Cairo, Egypt; and A Hamer Bull Jumping Ceremony in the Southern Omo Valley, Ethiopia.

In 2008, Arlene curated "From Afar: Documenting Traditions, Witnessing Transitions," an exhibition at the International Center of Photography's Education Gallery. She also curated "Heaven and Earth," a 2007 group exhibition at Gallery Chateau in New York City. This exhibition featured photographs from participants of her Ladakh, India international workshop. Her work in curating "Heaven and Earth" typifies the commitment Arlene makes to all her workshop participants—not only to increase their photographic skills, but to help them grow more confident in presenting their work.

Arlene continues to travel and teach workshops around the world. She plans to conduct upcoming international photography workshops in Colombia and Nepal.